Chiosco Illy Caffè
Strutture pop-up.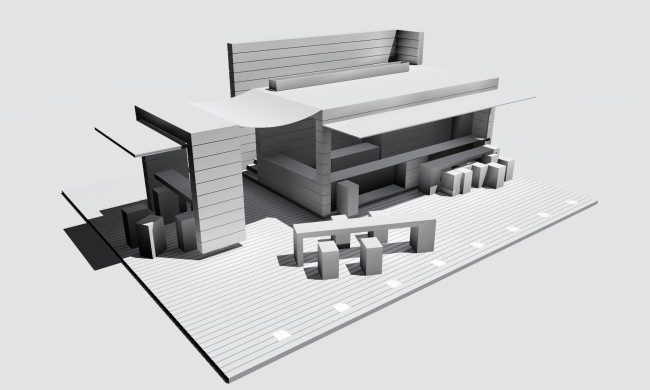 H2bar si inserisce all'interno della sezione "community bar" e intende proporre un progetto di un bar ma anche di un luogo di uso pubblico e di interazione sociale: bar diurno per il consumo veloce del caffè al banco, oasi di sosta in occasione della merenda e dei giochi pomeridiani, locale notturno per il "popolo della notte'", luogo di riferimento disponibile 24h su 24h per tutti gli abitanti del quartiere, "piazza" dove organizzare iniziative culturali e di animazione.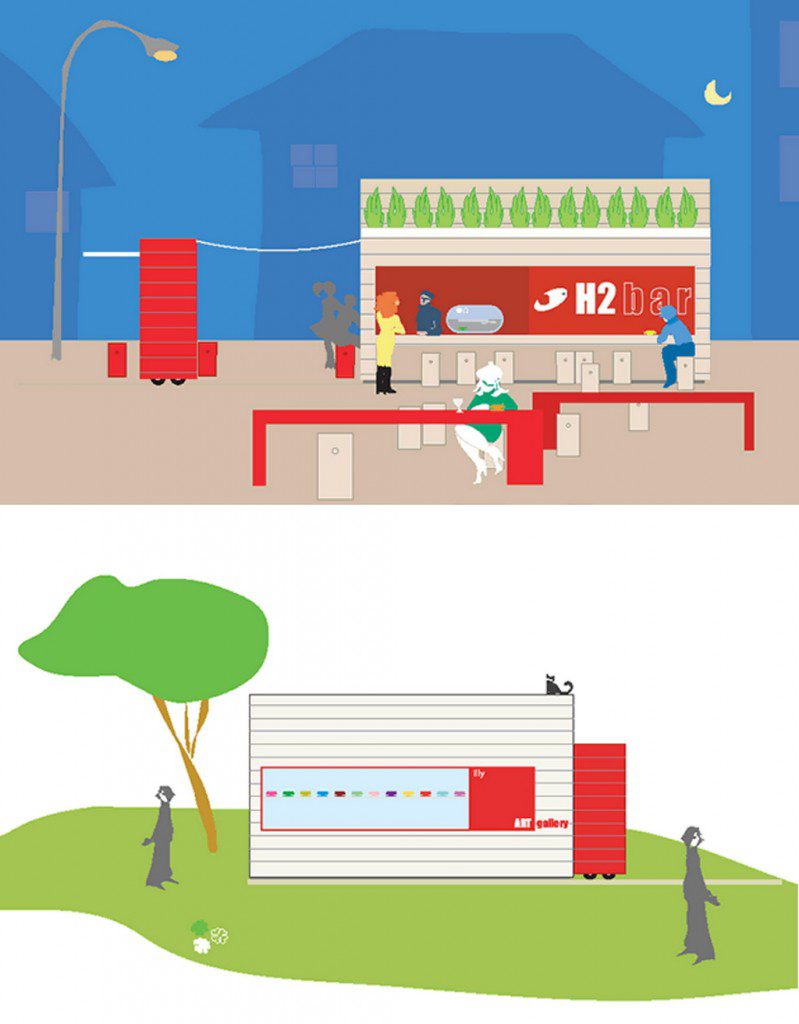 Il progetto, elaborato con l'Arch. Monica Moschini, parte dallo studio di un parallelepipedo che si svela bar aprendosi completamente su due lati, grazie allo scorrere di alcuni pannelli, che da rivestimento diventano tettoie di protezione per le persone. Uno degli elementi di progetto che caratterizza questo oggetto è il "portale", di forma quadrata e di colore rosso, mobile, grazie all'ausilio di alcune ruote, cornice e "ingresso" verso questo luogo. Il volume si compone di alcuni elementi custoditi all'interno della struttura chiusa, quali tavoli e sedute, messi a disposizione per tutti, sia durante gli orari di apertura del bar che quando è chiuso. Una parete del chiosco nasconde una scala che permette di raggiungere il tetto, calpestabile e utilizzabile per vari usi.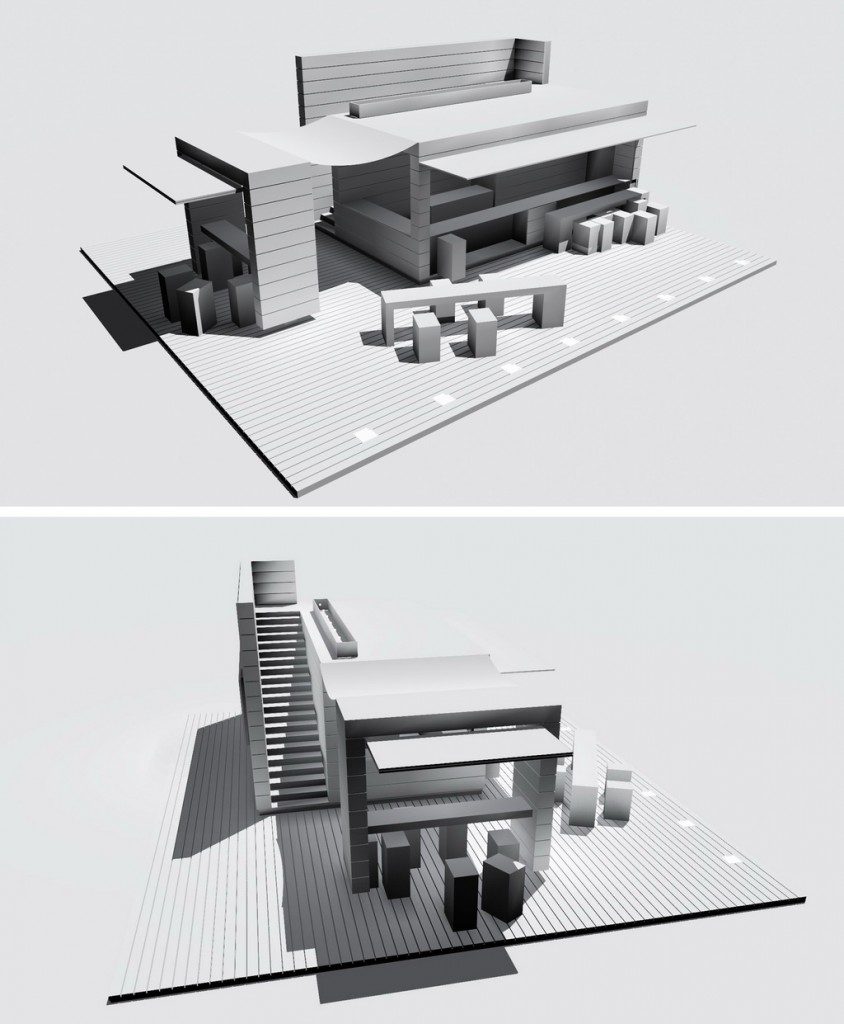 Il rosso e il quadrato sono gli elementi visivi studiati per riconoscere H2bar nel territorio. Il criterio è quello di riprendere in sordina gli elementi caratteristici del logo della ditta sponsor dell'iniziativa, rielaborati per una scala architettonica. Questi elementi sono ritrovabili sia nel portale che nel colore di rivestimento di molte parti del chiosco. Il marchio è un semplificato disegno della molecola dell'idrogeno, ispirata al sistema planetario, con protone al centro e orbita ellissoidale dell'elettrone. Il logo riprende la sigla dell'idrogeno H2, sorgente di alimentazione del chiosco, affiancata alla parola bar che, nell'immaginario collettivo, è il luogo per eccellenza per bere "il caffé", ma anche luogo di passaggio, ritrovo, conversazione, incontro, scambio, seduzione.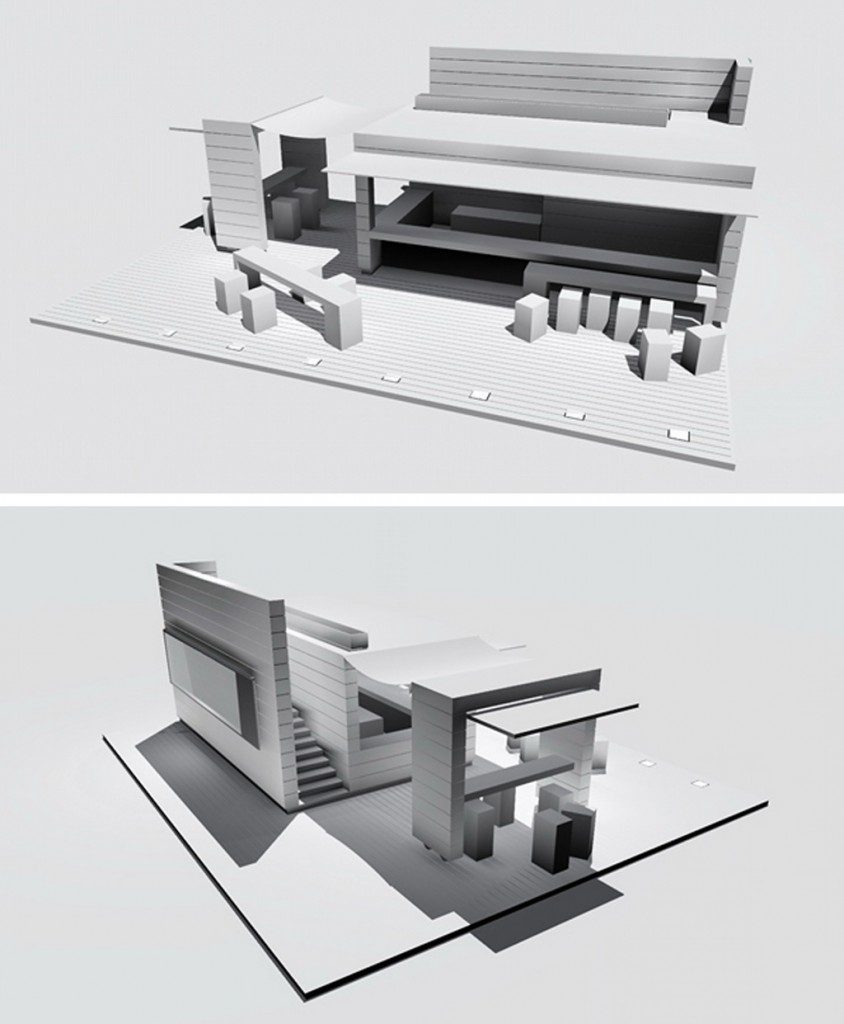 ENGLISH TEXT Illy Coffee pop-up Pop-up structures. H2bar is part of the section "community bar" and it proposes a project of a bar but also of a public space of social interaction: day bar for a quick consumption of coffee at the counter, oasis for a break for an occasion of a snack and of afternoon plays, nightspot for clubbers, place of reference open twenty-four hours a day, for the residents of the quartier, square where it's possible to organize cultural and entertainment events. The project, realized with architect Monica Moschini, starts from the study of a parallelepiped that reveals itself as a bar by completely opening on two sides thanks to some sliding panels which from cladding become canopies to protect people. One of the elements of the project which characterized the object is the square, red and mobile (thanks to some wheels) portal that is frame and entrance of this place. The volume is composed of some elements protected inside the closed structure: these elements are tables and chairs offered to everyone both during opening times and also when the bar is closed. One wall of the kiosk hides a stair which offers to achieve the walkable roof used for different things. Red and square, visual elements are studied in order to recognize H2bar on the territory. The criterion is to quietly re-use the characteristic elements of the sponsor logo of the firm that promotes the initiative, by reworking them on an architectural scale. These elements are traceable both in the portal and in the cladding colour of many parts of the kiosk. The brand is a simplified drawing of the hydrogen molecule inspired by the planetary system with a proton in the centre and the electron follows an ellipsoidal orbit. The logo re-uses the abbreviation of hydrogen H2, source of supply of the kiosk, and it's connected with the word "bar" which, in everybody's mind, is the place when people drink coffee but it's also a place of passage, meeting, conversation, date, exchange and seduction.