Edificio residenziale a Cesano M. Milano
Progetto per una nuova costruzione.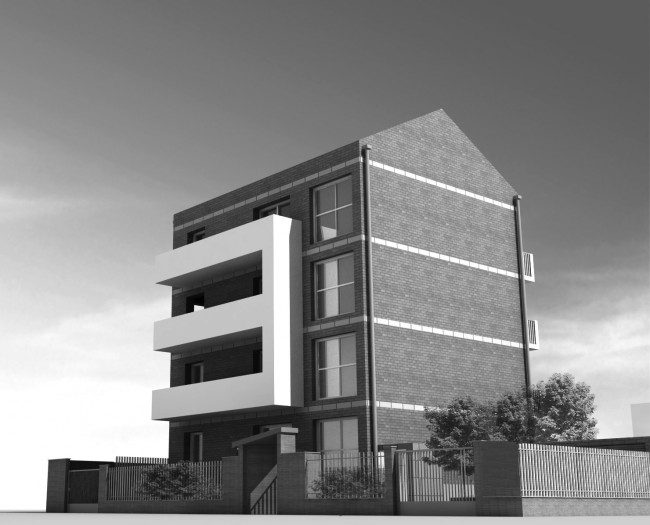 L'area di progetto è situata nella zona che si estende ad est della superstrada Milano – Meda (SS 35).
L'edificio in progetto (previa demolizione di quello esistente) si allinea, sul fronte strada, all'edificio posto ad ovest e sviluppa 380,50 mq. di Slp, suddivisa n. 7 unità immobiliari distribuiti in quattro piani fuori terra per un altezza in gronda di 13,20 ml.
I posti auto, corrispondenti ad ogni unità immobiliare, sono stati ricavati sia a raso che nel piano seminterrato soddisfacendo così la Legge 122/89.
Le unità immobiliari in progetto sono distinte in due per piano ad esclusione di un'unica unità che occupa l'intero secondo piano. Le due unità che si trovano all'ultimo piano sono collegate, tramite una scala interna, al sottotetto SPP sovrastante. Le unità site al piano rialzato sono contraddistinte per la presenza di un giardino di proprietà.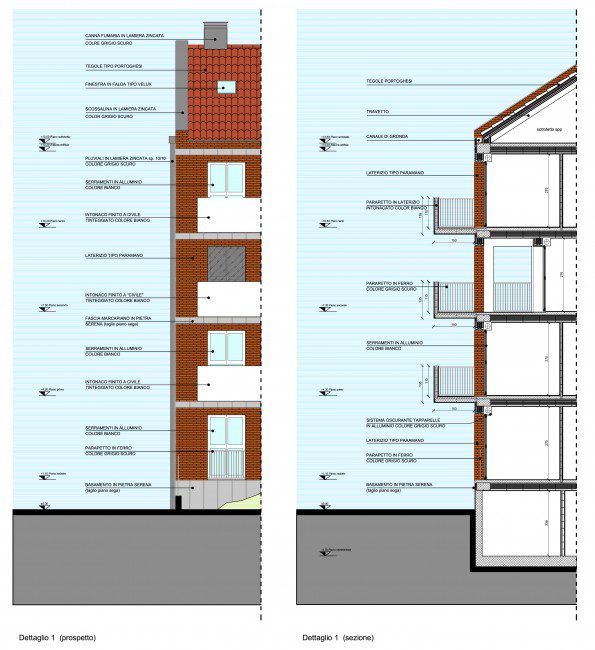 La struttura portante dell'edificio è costituita da uno schema di travi e pilastri in c.a. e i solai sono realizzati in travi e pignatte.
Tutte le pareti sono realizzate con un pacchetto atto al contenimento energetico e all'isolamento richiesto dalla legge. Perimetrale esterno: costituito da una muratura esterna di cm. 30 in laterizio a "scudo chiuso", assemblata ad un' altra muratura interna di cm. 8 sempre in laterizio. Divisori tra gli alloggi: costituiti da una muratura doppia di cm. 12 di spessore interrotta da un pannello isolante di cm. 5.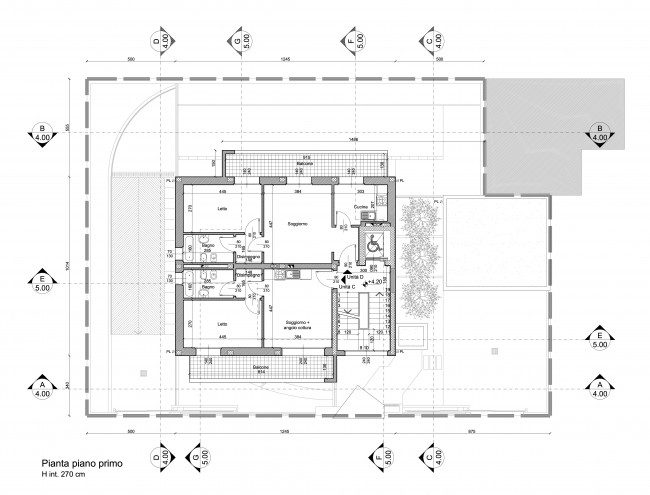 La finitura delle pareti perimetrali è in laterizio faccia a vista è quella dei parapetti dei balconi e logge intonaco per esterni tinteggiato di bianco.
I serramenti, anch'essi con opportuno vetro camera per soddisfare i requisiti di legge, sono in alluminio colore bianco, mentre gli oscuranti (taparelle in alluminio) sono di colore grigio.
Grigie infine sono tutte le finiture relative alle lattonerie e al basamento, previsto in pietra.
La struttura della copertura, costituita da un tetto a falde comprese da due muri perimetrali, è realizzata in legno lamellare, adeguatamente isolata e impermeabilizzata e rifinita in tegole tipo portoghesi.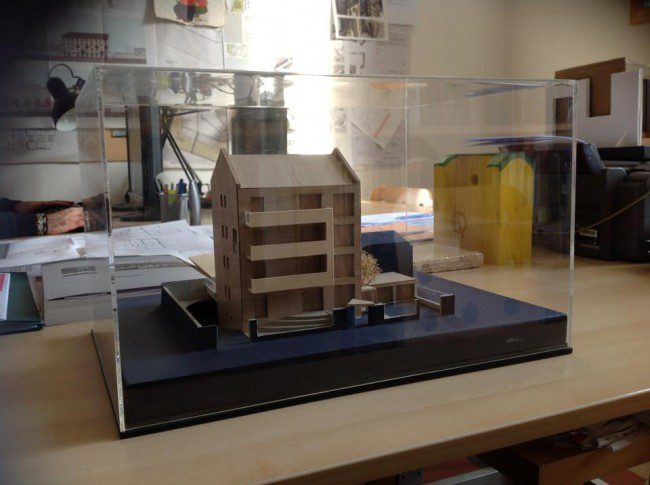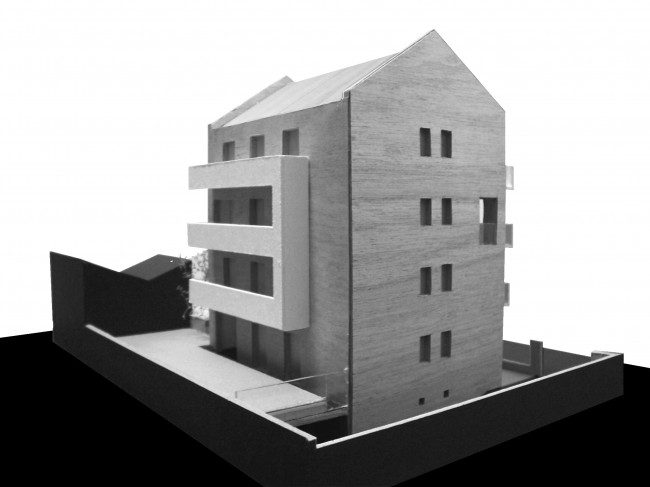 ENGLISH TEXT
Residential building in Cesano Maderno, Milan Project for a new building. The area of the project is in the east of the expressway of Milan – Meda (SS 35). The designed building (subject to demolition of the existing one) aligns on the street level to the building situated in the west, it develops 380,50 m2 of gross area divided in seven real estate units of four above-ground levels with an eaves height of 13,20ml. The parking spaces, that correspond to each real estate units, are both street level parking and in the basement: in this way it is observed the law 122/89. There are two estate real units on a floor, instead the entire second floor is occupied by an only unit. The two units that are on the top floor are connected through an internal staircase to the attic above. The units on the mezzanine are characterized by the presence of a private garden. The load-bearing structure of the building is composed by a plan of beams and pillars made of reinforced concrete and the attics are realized with beams and hollow flooring block. All the walls are realized with the purpose of achieving energy savings and insulation required by law. The outer wall is composed of an external brickwork of 30 cm. assembled to another internal brickwork of 8 cm. The partitions between flats are composed of a double brickwork of 12 cm interrupted by an insulating panel of 5 cm. The finish of the outer wall is made of visible bricks and the one of the railings of the balcony and loggias are made of whitewashed plaster for external use. Door and windows have double-glazing required by lawn and they are made of white aluminium, whereas shutters are made of grey aluminium. The finishes of sheet metal work and of the stone basement are gray. The structure of the pitched roof is included between the outer walls and it's made of glued laminated timber, moreover it's properly insulated, waterproofed and finished with Portuguese roofing tiles.