Fonderia Napoleonica Eugenia a Milano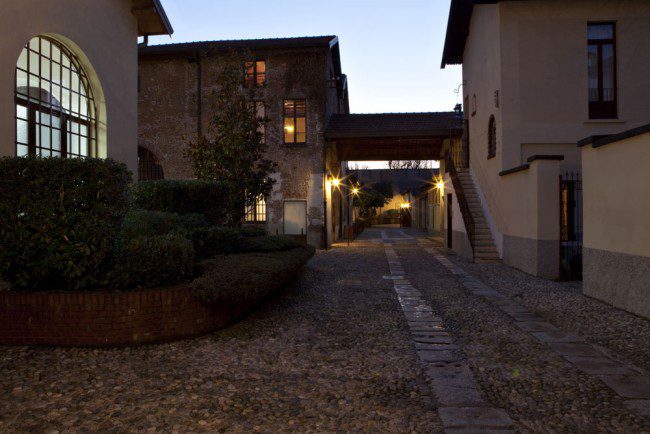 Riconversione di un edificio storico in spazio polifunzionale.
Intorno al 1806 sorse la Fonderia Napoleonica Eugenia. La storia della fonderia è strettamente legata a quella del quartiere Isola e al santuario di Santa Maria alla Fontana. L'area su cui essa sorge apparteneva infatti ai beni dell'adiacente complesso religioso. Con l'arrivo di Napoleone i terreni e gli edifici di Santa Maria alla Fontana furono requisiti dall'esercito francese ed alcuni di essi vennero destinati ad accogliere una fonderia di bronzo. Il complesso rimase in funzione fino al 1975 grazie alla produzione di campane per tutto il territorio della provincia di Milano. Oggi lo stesso complesso, dopo un suo attento recupero, ospita uffici e spazi espositivi, oltre che essere sede dell'omonimo museo. Lo studio è stato incaricato di una serie di progetti di recupero e riconversione per alcuni degli edifici all'interno dell'area della fonderia.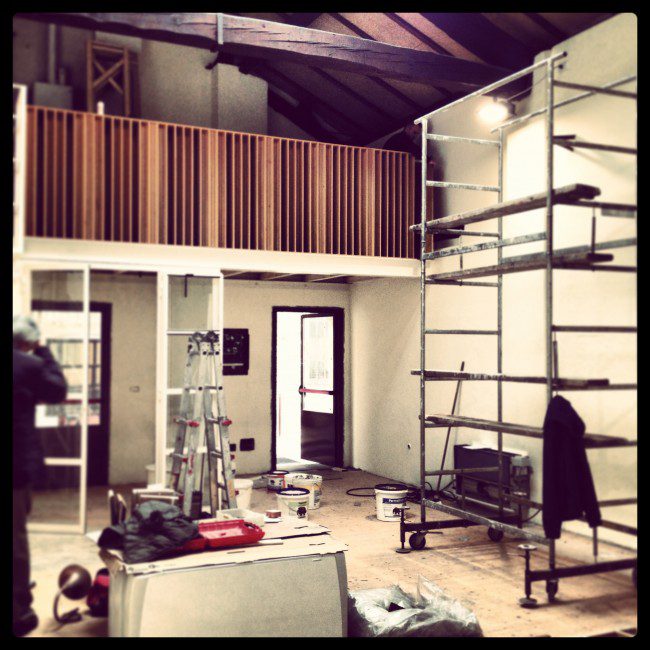 Lo spazio che Arch+ Studio è stato incaricato di ripensare, ospitava in precedenza l'atelier di una giovane pittrice. Il progetto, assecondando le richieste del Committente, ha previsto la realizzazione di uno spazio flessibile ad usi diversi, separando nettamente la zona dedicata ai servizi – ingresso, bagni e zona tecnica – da quella destinata ad ospitare, di volta in volta, le destinazioni principali – eventi, ristorazione e rappresentazioni teatrali.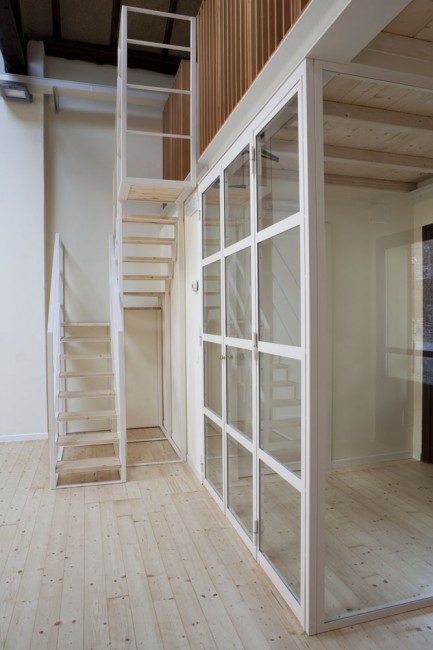 Dall'ingresso, attraversando una bussola costituita da un serramento a tutt'altezza, in ferro e cristallo trasparente, si accede allo spazio interno, una grande aula rettangolare, caratterizzata dalla presenza di due capriate lignee, intervallate da un nuovo serramento in falda, che sorreggono una copertura a falde, costituita da travetti in legno, tra i quali si interpongono pannelli ignifughi, tipo celenit – scalglie di legno mineralizzato – con funzione acustica e termica. Il pavimento sottostante, è stato realizzato con economiche doghe di legno in larice.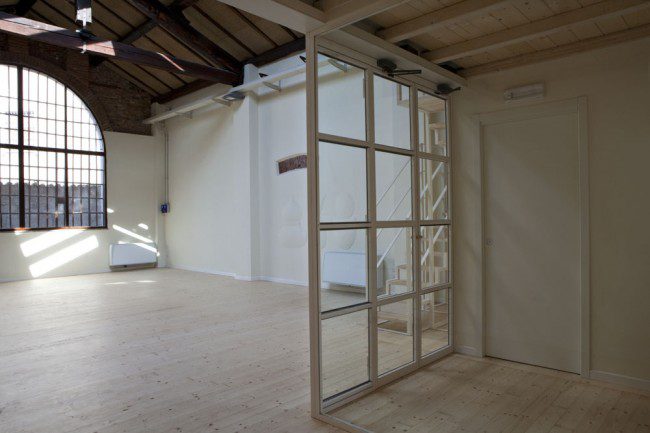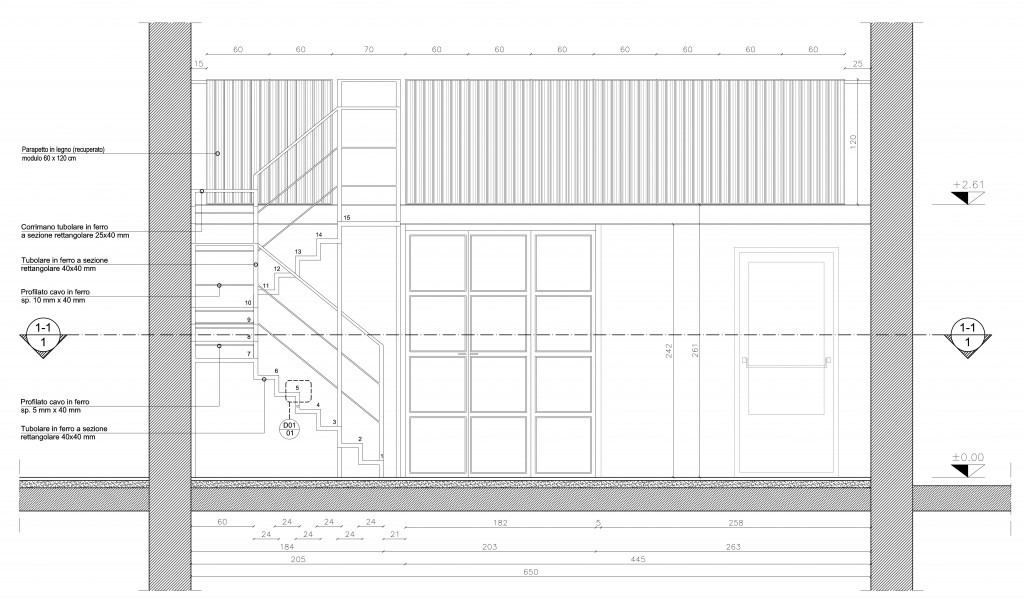 L'antico laboratorio artigianale, è stato infine fornito di una serie di impianti, le lo rendono adatto agli usi attuali e ne garantiscono l'uso promiscuo – illuminazione a led, riscaldamento, con pompe di calore, alimentate a gas metano. La scelta principale è stata quella di evidenziare l'aspetto originario dello spazio, dedicandosi quasi esclusivamente a risolvere la "zona di accesso" che infatti, in maniera colloquiale e leggera, si accosta alla zona originale. Il resto, murature in laterizio, intonaci e serramenti originali, è stato sottoposto solo ad una attenta e puntuale manutenzione.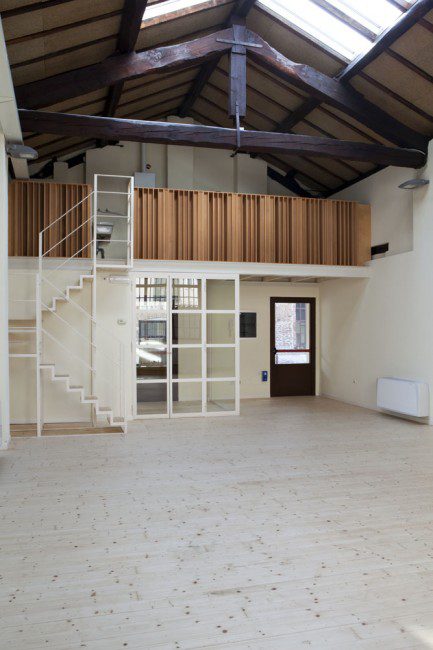 Fondamentale, è risultato lo studio della sezione trasversale, sia per l'ingresso, sia per il soppalco che lo racchiude e per la scala di accesso a quest'ultimo, realizzata in ferro e legno in maniera artigianale. Ulteriore scelta, dettata da una delle necessità di utilizzo dello spazio – quella teatrale – è stata quella di realizzare il parapetto del soppalco con una serie di pannelli fono assorbenti – effetto anti-eco – sul quale trova posto, oltre alla eventuale cabina di regia, il sistema di gestione degli impianti.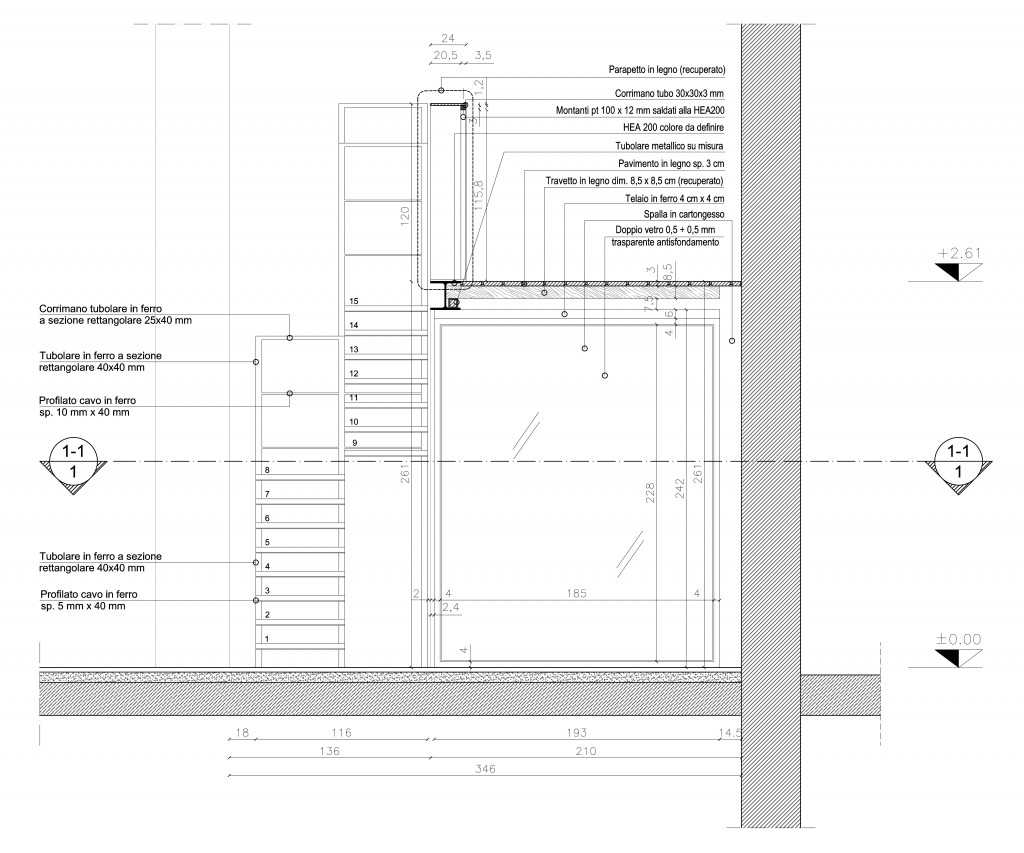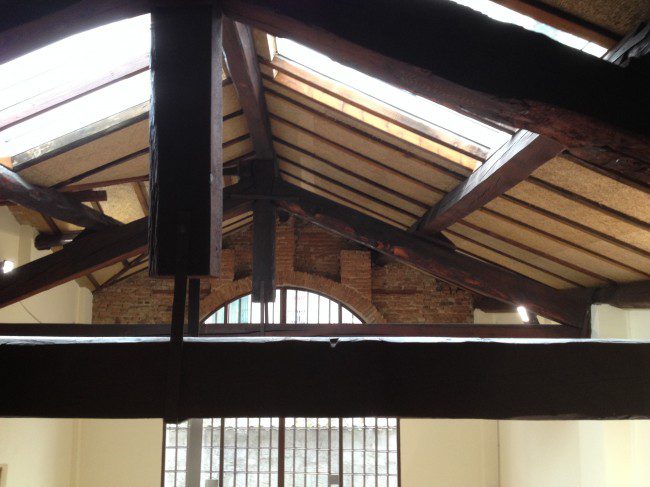 ENGLISH TEXT Multi-purpose Space, Fonderia Napoleonica Eugenia in Milan Reconversion of an historical building. About the year 1806 stood the Fonderia Napoleonica Eugenia. The history of the foundry is strictly linked to the one of the Isola quartier and to the sanctuary of Santa Maria alla Fontana. In fact the area where it stands, belonged to the property of the adjacent religious complex. With the arrival of Napoleon, territories and buildings of Santa Maria alla Fontana were requisitioned by the French army and some of them were bound to hold a bronze foundry. The complex worked until 1975 thanks to bells production for all the territory in the province of Milan. Today the same complex, after a very precise redevelopment, contains offices and exhibition areas and moreover it's the location of the museum of the same name. The atelier was charged with a series of reconversion and development projects for some buildings inside the area of the foundry. The area that Arch+Studio has redeveloped, contained the atelier of a young female painter. The project, following the requests of the customers, has realized a flexible space for different employments, by clearly dividing the area assigned to services – entrance, bathrooms, technical area – from the one assigned to contain each time the main activities: events, catering and performances. From the entrance, walking through an inner door composed of a full-height frames made of iron and transparent crystal-glass, you can access the internal space: a large rectangular hall, characterized by the presence of two wooded trusses, alternated with a new frame, which hold up a pitch made of wooden joists and between them there are fireproof panels (like celenit) – silvers of mineralized wood- with acoustic and thermal purpose. The floor is made of cheap larch floorboards. The ancient artisanal laboratory is provided with a series of systems that make it suitable for current and mixed employment – led lighting, heating with gas powered heat pumps. The main choice was to underline the original aspect of the area, by trying to solve the "access area" which in fact, in a light and colloquial way, is similar to the original space. Brickwork, plaster and original doors and windows have been subjected to a precise and accurate maintenance. The study of the transversal section turns out to be essential both for the entrance and for the upper storey which contains it and for the stair, made of iron and artisan wood, that brings to the latter. Further choice, imposed by one of the necessities of space employment – the theatrical one – was to realize the parapet of the upper storey with a series of soundproof panels (anti-echo effect) where there is, besides the possible control room, the management system of plants.